We  have been stuck on #89/100 for a couple of months now. About a year back,  an acquaintance mentioned a grape variety from Greece called Rhoditis and I've been looking for it ever since she mentioned it.
Well, still no Rhoditis, but I did pick up a couple of new ones yesterday that will complete #'s 90 and 91 out of the required 100.
One of the wines, a non vintage Retsina from Kourtaki of Attica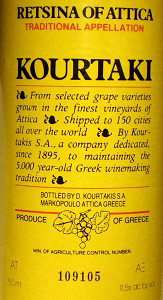 is a greek "resinated" white wine made from the Savatiano grape. Small pieces of pine resin are added to the must during fermentation imparting the pine flavor. I had read about Retsina and and my expectations we're set low for this wine and I must say expectations were pretty much met. Pretty color, a not unpleasant nose, and tasted like diluted pinesol – not a taste I'll likely acquire anytime soon.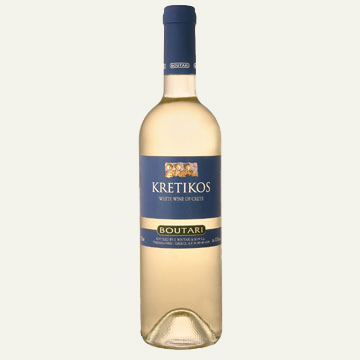 .
.

The second wine, also from Greece is 2006 Boutari Kretikos White wine.  It is made from The Vilana grape found primarily in Crete. Now this wine was not bad, not great, but not bad. Definitely non aromatic, nice clear pale straw color, and nice taste with a bit of a petroleum characteristic – not riesling like, but close with some tropical fruit. Probably won't buy it again, but hey it's number 91 on our Wine Century Club list – 9 to go.
Posted by DRHamp as Wine-Wine-Wine at 8:10 AM UTC