Our son recently returned from a business trip to a number of European countries ending in Slovenia. While in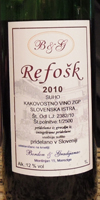 Slovenia, he visited a vineyard/winery and had a red wine, Refošk – pronounced Reforrrsk.
He was able to bring back a 1L bottle and we had it last night with grilled Bratwurst, roasted corn and potatoes. Having beautiful deep dark red color, it had a definite ground pepper characteristic that went well with the food. We liked it a lot.
Oh yes, did I mention that Refošk is a grape variety that we had not previously tried so it made number 93 on our quest to qualify for the Wine Century Club.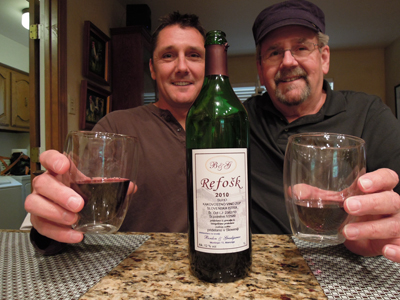 Refosco is an Italian family of dark-skinned grape varieties native to the northern Italian areas of Friuli, Gavi, and Trentino.  Refosco is also grown in Slovenian and Croatian parts of Istria under the name of Refošk or Teran. The grape is also known as Terlan or Terlano.
It was a real treat and now — only seven to go!
Posted by DRHamp as Wine-Wine-Wine at 9:45 AM UTC