We just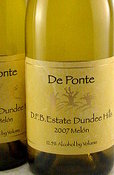 returned from a wonderful trip to the Oregon Wine country – The Willamette Valley specifically.  I'll have more about the trip a little later when I gather my thoughts – but one notable happening was that we picked up another variety on our Wine Century Club quest.
We sampled the 2008 DePonte D.F.B. Estate Melon a 100% varietal from DePonte Cellars a beautiful, somewhat remote winery nestled in the Dundee Hills just outside of Dayton, OR.  The grape variety is Melon de Bourgogne.  They also make excellent Pinot Noir.
Beautiful winery, beautiful vineyards, very hospitable and friendly staff, outstanding wine — what more could you ask for!
Posted by DRHamp as Wine-Wine-Wine at 9:21 AM UTC