I've had at least four emails this week alerting me that my wine club selection would be shipping soon.  Four emails communicating the same information — well sorta, but not quite.
You see, I belong to five wine clubs and they are all about to release their winter/spring selections.
Got an email from Janie at Brooks Winery notifying me that my four bottles had been shipped.  The Brooks selection consists of two reds — their "Janus" Pinot Noir and their"Rastaban" the premium Pinot Noir.  We've had the Janus which is outstanding, so I can only imagine(for now) what the Rastaban is like.  Also included in the Brooks shipment is two bottles of their white blend, "Amycas".  We've never had the Amycas and are anxious to try it.  The Amycas is an interesting blend of 37% Pinot Blanc, 22% Pinot Gris, 21% Riesling, 18% Gewürztraminer, and 2% Muscat – sounds delicious.  As soon as I have access to the Brooks images, I will update this post. The images should be available shortly.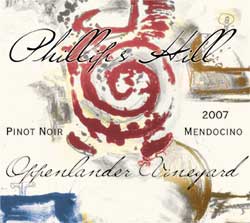 Also heard from Toby Hill of  Phillips Hill.  I receive a smaller allocation from Phillips Hill (my choice) so will get three bottles in the next few days.  All Pinot Noirs — the 2007 Oppenlander Vineyard,
the 2007 Toulouse Vineyard(my favorite) and a new one, the 2007 Corby.   Phillips Hill is a fairly low-production winery in the Anderson Valley of Northern California.  I fell in love with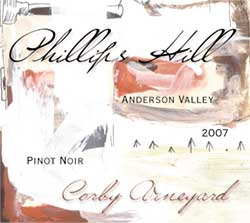 their Pinot Noir when I tried the 2005 Toulouse Vineyard release.  They only made 150 cases of the Toulouse in 2005, and 175 cases in 2007.   It continues to be one of my all-time favorite Pinots.   I debated joining this club, but at 3 bottles twice a year, I can manage it and I can still order more with a nice discount as a club member.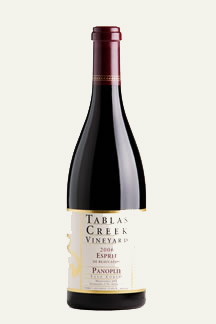 ….
….
….
Tablas Creek has also notified me of their upcoming club shipment.   It will include one bottle of their elite flagship red, the 2006 Panoplie.  This wine is only made in great years and available only to club members. Also included is a bottle of 2006 Cote de Tablas, a blend primarily of Grenache, but with 11% Syrah, 9% Mourvedre, and 8% Counoise.  Four additional wines are included in this six-bottle shipment, they are: a bottle of their  2006 Grenache, their first ever production of a varietal Grenache;  a bottle of 2008 Rose, a Mourvedre based wine; a bottle of their 2007 Grenache Blanc, another 100% varietal; and last but not least, a bottle of their 2007 Roussanne – only 350 cases made and scored in the 90's by both Parker and Tanzer (for what that's worth).  Needless to say, I have never had a Tablas Creek wine that I did not consider excellent to outstanding so we are looking forward to receiving this shipment.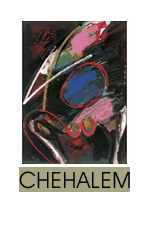 Oregon has become one of my most favored domestic wine regions (Brooks, Chehalem, Amity ….) and Chehalem is one of my all time favorite producers.  While they make some excellent Pinot Noir, my most favorite are their Pinot Gris and their Chardonnay – they are to die for in my opinion.  The Chehalem shipment will include four wines:  The 2006 Reserve Pinot Noir, the 2006 Ian's Reserve Chardonnay,  the 2007 Reserve Pinot Gris (yum yum) and a bottle of 2007 Corral Creek vineyards Riesling (only 107 cases produced).  From past experience, I can tell you that the Reserve Pinot Gris and the Ian's Reserve Chardonnay are outstanding.
That's four up-coming shipments from my five wine clubs.  So, where's the fifth — well Amity is a little  more laid-back than the others.  They may not be the first to arrive, but when they do arrive I fully expect them to be great.  Very "cool" wines from the cool folks at Amity Vineyards in Amity, Oregon.
I've often thought about cutting back on this "Wine Club" business, but when it gets down to paring the list, I just can't seem to make the cut.  They all produce excellent wine and they represent our current favorites, so I'm going to hang in there for another year – if one of them dissappoints, slash they're gone — but I don't expect that to happen.
Posted by DRHamp as Wine-Wine-Wine at 10:04 AM UTC