The post title above is a bit mis-leading; adding the varieties and being a winner are only loosly related, make that very loosly related.
We play Onze(a rummy-like card game with a French name. Don't know where the French name comes from) fairly regularly with friends. We play for quarters – everyone starts with $5 and at the end of the night, it's obvious who the winners and losers are. Last night, I ended up $3.50 — I'm a winner!

During that very enjoyable night of cards, I opened a bottle of Gritsch Gruner Veltliner that I had purchased from Jill at Domaine547. This is my first Gruner Veltliner and It was very tasty. For me, it was a lot like a riesling with veggies. Noticable petroleum and minerality mixed with some broccli and maybe a stalk of asparagus — that along with just the right amount of sweetnes. Great balance. I prefer good riesling, but this was good and I got to mark off another variety.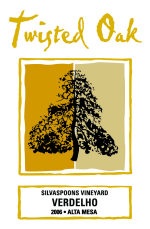 Just so you don't mistake us for lightweights, we then opened a bottle of one of my favorite summer whites – Twisted Oak Verdelho from the Twisted Oak Winery , the Silvaspoons Vineyard in Alta Mesa – ummmm very yummy.
We followed that with a very nice Zinfandel from Rancho Zapaco in Sonoma county – just to add a little heft to balance off the "whiter shades of pale".
Did I mention that I ended a winner? Oh yeah, I guess I did.
So, ok the Verdelho is not a new variety and we had to finish the night with something new – at least a new variety (or two) for me.
We opened a bottle of Lustau Deluxe Cream Sherry. I don't know that I've ever tried sherry before and I really didn't know what to expect. The "Cream" part had kind of set my expectations toward something like Baileys Irish cream but there wasn't anything cream-like in the color or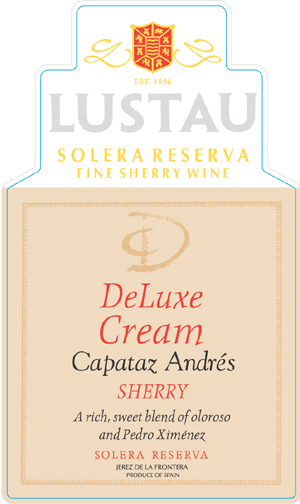 texture. It was, however very tasty and an excellent way to finish the evening. Taste-wise, it reminded me a bit of Port, without the full body. I liked it ok, but in the future when I want something like that – I'll stick with a good 10 or 20 year port. Good QPR with the Sherry as this bottle ran around $12 whereas a good 10 – 20 year Tawny will run upwards of $40 – $50.  So, what are the two new varieties? The cream sherry is made from Palomino and Pedro Ximenez grapes – two varieties that (to my knowledge), I have never had before.
My trek towards Wine Century Club qualification is now at 67 varieties – only 33 to go.
So, the wine was excellent, I picked up three new varieties, and I won $3.50 playing Onze – can't get much better than that!
Posted by DRHamp as Wine-Wine-Wine at 10:22 AM UTC